Does Your Company Have an Enclosed Parking Area that Needs to be Protected?
Enclosed parking lots contain expensive vehicles and valuable contents. This leaves car owners and their passengers particularly vulnerable to becoming the victims of theft, violence and other criminal activities such as vandalism.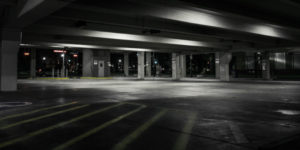 In fact, closed parking garages are frequently becoming the favored "hunting grounds" for thieves and vandals. That's why business owners who manage their own closed parking lots have a big responsibility when it comes to the safety and security of their customers and employees.
With so many security solutions on the market, how does your business know which one will work best for the specific design of your parking lot?
The threat to people and property in enclosed parking garages is significantly higher than the threat in open lots. That's because isolated floors often make it difficult to implement effective surveillance and monitoring systems. Criminals find it easier to hide.
That's why many closed parking lots, also known as garages, either control or closely monitor those who access them. Parking attendants are able to monitor car owners entering and leaving, and CCTV cameras are used to record license numbers and the faces of those who enter the premises.
However, this is far from a secure solution. Pedestrian doors that are located out of sight of the parking attendant can still be entered by criminals and traditional CCTV systems generally don't cover all areas of the parking lot.
This is where a VERIFIED security solution that's designed specifically for the layout of your parking lot will help.
Verified alarms use remote security monitoring to stop criminals in action. Whereas CCTV systems merely monitor a crime while it's taking place, verified video is live-streamed directly to a remote monitoring station where a security professional is able to verify whether the alarm is a real threat.
Once verified, the security professional will notify the police and give them real-time updates that ensure they can capture the criminal and stop the crime while it's in progress. This approach minimizes the damage done to customers or employees and ensures the criminal is held accountable.
Other tips to properly secure your closed parking lot include:
Install adequate lighting to ensure all areas of your enclosed parking lot are well lit, limiting the number of places that criminals can hide.
Ensure interior and exterior stairwells are visible so that criminals cannot hide. This can be done by installing plexiglass or "see-through" type walls.
Install emergency call boxes, panic alarms and intercom systems so that your parking garage attendant can help customers/employees in need.
For more information or to schedule a consultation, contact Joe Allen, Sonitrol Security of Delaware Valley, at jallen@sonitrolde.com or (302) 652-3060.