Common Misconceptions About Security
Thousands of small, medium and large businesses are broken into every day, with the result sometimes being catastrophic for the company.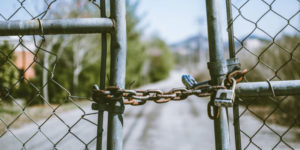 Whether opening for the first time, moving locations or simply looking to upgrade, business owners have a lot of aspects to consider. The security of their premises should be high priority on that list.
Nearly 9 per cent of small businesses suffered a burglary in 2016, according to Chicago-based insurance agency Insureon. The survey revealed that a business owner could pay up to $8,000 out of their own pocket following a burglary incident – not a small price to pay.
Thankfully, there are security measures a business can take to significantly lower that risk, but choosing the right option is essential. Here at Sonitrol Security of Delaware Valley, we've created a list of the five most common misconceptions when it comes to conventional security systems.
1 – All security companies use the same technology
Most security alarm companies use technology that have been around for decades. Many of these companies buy their equipment from the same manufacturer, which means they generally offer the same technology and the same service.
Criminals are well aware of these methods. It's not only the installation fees that will cost you, it will also cost you when these conventional systems fail to protect your business. Read on to find out the Sonitrol Security difference.
2 – You can't detect a break-in until the criminal is inside
This is true for most conventional alarm systems. Alarm systems generally use motion detector cameras which detect motion, and sometimes heat. These cameras are more often than not installed inside a building, but that's not helpful in stopping that intruder from entering your premises.
Stopping a criminal before they get inside is the best option. Verifying a threat from the outside and dispatching the local police within minutes is far more effective and proactive method to protect your business. This will prevent damage and theft, and save you money.
3 – Police will respond instantly to a conventional alarm system
Unlike Sonitrol Security, conventional systems do not have video verification. Conventional alarms have a false alarm rate of 98%, meaning police dispatch at a much lower rate of priority when there is no confirmation.
Police are dispatched at a much higher priority for security companies that offer verification. This means the likelihood of an apprehension is more likely, the amount of police time that is required is significantly cut down, and the police will be far more likely to dispatch officers to future calls. Verification is a win-win for everybody.
4 – Audio is not an important aspect of an alarm system
Many conventional alarm systems have glass-break detection capabilities, which will activate an alarm when triggered. The problem is that nobody actually hears the breaking glass, which means there is no way to confirm whether it's an active break-in. This results in many false alarms. Verified audio cuts out these false alarms.
5 – False alarms occur with all systems
The false alarm rate currently stands around 98%, which means false alarms are the norm for all conventional alarm systems. False alarms are often triggered by employees, making it a waste of police time. This is why the police dispatch time is slower for conventional systems. Most security companies report all infractions without verification – verified systems cut out these false alarms.
New technology is improving security for companies, but business owners must make the correct decisions. New technology has changed the security landscape in recent years, and businesses must keep up.
Alarm systems and security companies will protect your business, but you must make sure the system is designed specifically for your property, and the technology it uses is of a high enough standard to catch a criminal before they make off with your hard work.
For more information, contact Joe Allen, Sonitrol Security of Delaware Valley at (302) 652-3060 or jallen@sonitrolde.com