Commercial-Industrial Realty Council of Delaware Hosts Regional Meeting
Members of the Commercial-Industrial Realty Council of Delaware (CIRC/Delaware), Society of Independent & Office Realtors (SIOR), Certified Commercial Investment Member (CCIM), Suburban West Realtors Association (SWRA), Delaware Real Estate Women (DREW) and Appraisal Institute (AI) and their guests gathered for their annual joint regional dinner meeting on Thursday evening, November 16 at Harry's Savoy Ballroom on Naamans Road in Wilmington, Delaware.
Photo – Presidents of participating organizations.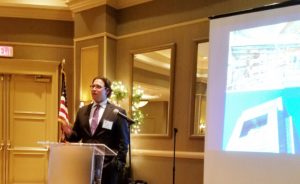 An informative keynote address was delivered by Brian Cohen, Liberty Property Trust. He reported on the rejuvenation of the Philadelphia Navy Yard into a vibrant corporate center.
Here is a photo gallery from the event:
Join us for the CIRC/Delaware Holiday Luncheon on Wednesday, December 13, 2017 at the Whist Club on Broom Street, Wilmington, Delaware.
Click here to register:
http://www.circdelaware.org/meetings/
Contact Sonitrol Today