Commercial-Industrial Realty Council of Delaware Hosts Golf Tournament
It was a beautiful day for golf on Monday, June 24. Members and guests gathered at the Hartefeld National Golf Course for the Annual Golf Tournament.
Charitable donations in excess of $4,000 were received. Donations to the Delaware KIDS Fund and the Big Brothers and Big Sisters of Delaware will be announced at CIRC membership luncheon when we return September 11. We thank all of the golfers, sponsors, and dinner attendees for their generosity.
The day began with a delicious BBQ lunch as golfers checked in and prepared for the Shot Gun start.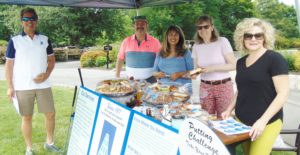 Golfers enjoyed a number of treats during the day including Soft Pretzels, compliments of Advanced Office Environments ; Assorted Specialty Beers, compliments of Twin Lakes Brewery; BBQ steak, compliments of the Meat House; Water Ice, compliments of Excel Business Systems; Snack Cart, compliments of First State Elevator and Beverage Cart, compliments of Pettinaro.
Of course, the event would not be possible without the generous support of all of our sponsors!

Once the golfing was done, everyone enjoyed a Happy Hour filled with networking and relaxation.
The day ended with dinner and awards. Congratulations to everyone who won. Of course, everyone was a winner after enjoying a beautiful day with great people in a fabulous setting.
First Place Foursome: Gordon Winegar, Dan Wham, Ryan Bree (not shown Justin Masterson).
Second Place Foursome: Bert Root, Dave Heaney, Mark Doughty (not shown Leigh Johnstone).
Third Place Foursome: Kevin O'Hara, Lorraine Sheldon, Jon Hickey (not shown Jimmy O'Hara).
Closest to Pin #11: Vincent DiMaio.
Men's Longest Drive: Dave Heaney
Ladie's Longest Drive: Janet Dougherty
Putting Contest – Hole in One: Joe Latina
Closest to Pin #2: Nick Allen
Here are some dinner photos:
Our golf tournament would not be complete without our fabulous Raffle Prizes! Thanks to everyone who donated an item.
Once again, Anthony Santora, Diamond State Photography did a great job of capturing and printing the foursome photos. Pat Forester, Sonitrol Security of Delaware Valley took the event photos and created this update, as well as an event newsletter.
Here is the link for foursome photos:
https://onedrive.live.com/?authkey=%21AONm8csWurmMYMU&id=9D444C81BBCF1D8B%21235639&cid=9D444C81BBCF1D8B
Special thanks to our fearless leader Janet Pippert and all the volunteers who made this event possible. See you next year!!!