Commercial-Industrial Realty Council of Delaware Hosts April Luncheon Meeting
On Tuesday, April 9, 2019 members and their guests of the Commercial-Industrial Realty Council of Delaware (CIRC) met for their luncheon meeting and Continuing Education Classes.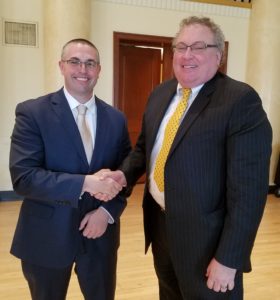 Photo: (left to right) Jason Hastings and Jay White.
Jason Hastings, M.C.E., P.E., a State Bridge Engineer with the Delaware Department of Transportation's Bridge Section presented an update on statewide projects, as well as an overview of the planned Interstate 95 reconstruction project.
Attendees now have an understanding of the reason for the project, the associated improvement projects, traffic rerouting, status and timing of the project.
Once again, a number of new members were welcomed: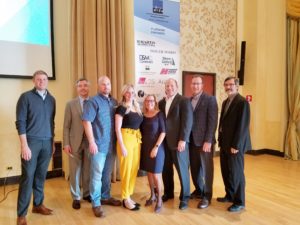 Photo (left to right) William Pancoast, The Garland Company; Jack Coleman, Stouch Lighting; Chris Vanderslice, The Handyman Service; Christie Colbourne, Capital Commercial Realty; Ginger Weiss, Creative Financial Group; Keith Kepplinger, Chase; Daniel Barbato, P.E., Pennoni; and Jim Manna, BrightFields, Chairman, CIRC Membership Committee.
Here is the photo gallery for the April Luncheon:
The next meeting is Wednesday, May 8 @ the Dupont Country Club.
Click here to register: http://www.circdelaware.org/meetings/nextMeeting.cfm