CIRC/Delaware Welcomes Futurist Jim Lee at October Luncheon
Members and guest of the Commercial-Industrial Realty Council of Delaware (CIRC/Delaware) heard an interesting presentation from Futurist Jim Lee at the luncheon on October 11, 2017 at the Clarion Belle in New Castle, Delaware.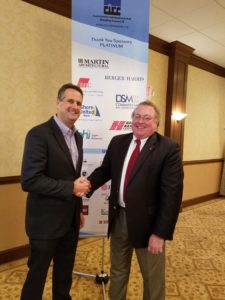 Jim is a financial investment advisor with Stratfi and a member of the Association of Professional Futurists. His presentation focused on Emerging & Future Trends that Impact Real Estate, including the forces of demographics, technology/automation and the movement of the shared economy (Uber, Airbnb, WeWork, etc).
Continuing Education classes were held both prior to and after the luncheon meeting.
As always, the Clarion Belle did an excellent job and the food was delicious.
Here is the photo gallery from the October luncheon:
[nggallery ID=4]
The next CIRC/Delaware event will be the Annual Joint Dinner meeting with members of SIOR Philadelphia Chapter, CCIM NJ/DE/PA Chapter, the Commercial Chapter of Suburban West Realtors Association and the Appraisal Institute of Del/Mar/Va and Philadelphia. The event will be held at Harry's Savoy Grill Ballroom on Thursday, November 16, 2017.
Click here to register: http://www.circdelaware.org/meetings/nextmeeting.cfm