Commercial-Industrial Realty Council of Delaware October Luncheon
The October 9, 2019 CIRC/DE luncheon featured Continuing Education Classes and an update on the Delaware Prosperity Partnership from Kurt Foreman.
This month, we start our second Full Rotation of CE Classes that will run through April 8, 2020. All classes will be held at 8:30 AM or 1:30 PM on the second Wednesday of October, January, February, March and April in conjunction with our membership luncheons.
Continuing education classes offered before and after the October 9 luncheon meet Pennsylvania and Maryland MCE requirements. The afternoon class features a Delaware Module 7.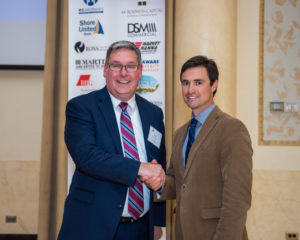 Photo (left to right): Kurt Foreman, President, Delaware Prosperity Partnership and Rob Stenta, CIRC/DE President
Kurt Foreman, President & CEO of the Delaware Prosperity Partnership, provided an interesting update on the organization's progress. He shared some insights into a visit from a group of national Site Selectors who came to Delaware last week. The goal is to make Delaware an attractive place for their clients to do business.
For more information, visit: https://choosedelaware.com/
Another highlight of the luncheon, was the presentation of two checks to the Delaware Kids Fund and the Boys & Girls Clubs of Delaware from the CIRC/DE Golf Tournament. Proceeds of the tournament benefitted these two great organizations that do so much for our community.
Once again, new members were welcomed by Jim Manna, CIRC/DE Membership Committee Chairman. Thanks to all the members who serve and continue to spread the word about our group.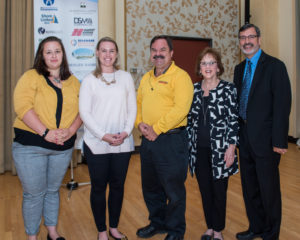 Photo (left to right): Christian Chambers, ChristianaCare; Brooke Eaton, Bohler Engineering; John Fecile, CertaPro Painting; Eileen Thomas, Haworth; and Jim Manna, BrightFields, Inc., Chairman, CIRC Delaware Membership Committee
Here are the photos from the October luncheon. Thanks to Anthony Santoro, Diamond State Photography and Pat Forester, Sonitrol Security of Delaware Valley for capturing the event:
Mark your calendars for our next event. Our Annual Holiday Dinner with SIOR, CCIM and CIRC.
Click here for details: http://www.circdelaware.org/meetings/nextMeeting.cfm