Commercial-Industrial Realty Council of Delaware Host October Meeting
Members of the Commercial-Industrial Realty Council of Delaware (CIRC/Delaware) and their guests gathered at the Clarion Belle in New Castle on Wednesday, October 10, 2018 for their monthly luncheon meeting.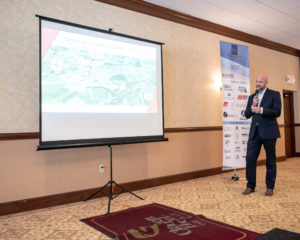 Thomas J. Hanna, President, Harvey Hanna & Associates discussed plans for the Greater Newport/Stanton Redevelopment project and the status of current plans for the Boxwood Road (former GM) site.
In his pivotal role of the company as President, Mr. Hanna directs the management of all company operations and strategic opportunities. He leads the strategic planning and execution of the Harvey Hanna companies.
Under the leadership of company Chairman, Thom Harvey, Mr. Hanna has directed the company's portfolio growth from a modest 30,000 square feet of total space in 1996 to its current scale of over 6 million square feet of space.
Mr. Hanna has orchestrated hundreds of millions of dollars' worth of leasing, institutional financing, redevelopment and acquisitions over the span of over two decades. Of note, the Harvey Hanna companies experienced in excess of 1.5 million square feet of lease renewals between 2009 and 2014, during which period the company maintained a 97.8% occupancy rate.
We continue to welcome New Members thanks to the hard work of our Membership Committee. Members include Jim Manna, Chairman, Brightfields, Inc.; Lorraine Sheldon, Emory Hill; Susan Miller, Gioffre Commercial Realty; Greg Ellis, Patterson-Woods Commercial Properties; and Don Robitzer, Commonwealth Group.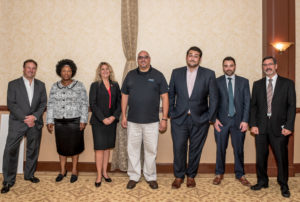 The following new members were in attendance at the October luncheon. (Pictured left to right: Don Robitzer, Commonwealth Group, Membership Committee; Bukola Esther Olatunji, KW Commercial; Melissa Snyder, Wells Fargo; Albie Delgado, Comcast Business; Tyler Foresta, Gioffre Commercial Realty; Kyle Armstrong, IFS Insurance and Jim Hanna, BrightFields Inc., Chairman, Membership Committee).
Special thanks to everyone who participated in the CIRC/Delaware Golf Tournament on June 25, 2018 at Hartefeld National Golf Club.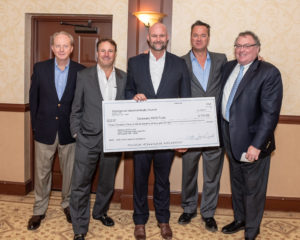 Members of our Board of Directors presented a check for $3,170 to the Delaware Kids Fund to Tom Hanna.
Here is the gallery of photos from the October Luncheon. Thanks to Anthony Santoro, Diamond State Photography for taking photos for Pat Forester, Sonitrol Security of Delaware Valley who is on the West Coast caring for her sister.
[nggallery ID=18]
On November 14, 2018, we will join members of SIOR and CCIM for our Annual Joint Holiday Dinner at the Dupont Country Club. Click here to register: http://www.circdelaware.org/meetings/nextMeeting.cfm