Commercial-Industrial Realty Council Hosts February Luncheon
The February luncheon of the Commercial-Industrial Realty Council  featured an update from Jeff Lang, Owner and Chris Locke, Senior Vice-President and General Counsel, Lang Development Group who shared details about their Hyatt Place Newark mixed-use redevelopment project.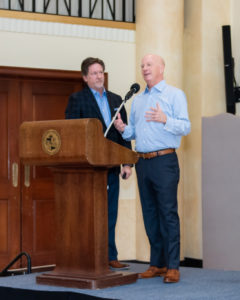 The project also known as "Green Mansion" is a unique mixed-use development that incorporates a property on the National Histroical Register, a 144 room Hyatt Place hotel, 20,000 square feet of downtown office space and a parking garage.
The project brings a new economic driver to Newark and should revitalize Newark's Main Street upon its completion.
The following Continuing Education classes were also offered before and after the luncheon:
8:30 AM Class – Legislative Updates – Colin McGowan, Instructor
DE MOD 5 Legal Updates
MD Mandatory Md. & Fed. Legislative Issues
Elective: PA  / NJ
1:30 PM Class – Commercial Hot Buttons – Andrew Taylor, Esq., Instructor
DE MOD 7 Commercial Hot Buttons 3.0 hrs.
Elective: MD / PA / NJ
A very special CIRC Presidents' Day Tribute was featured at the luncheon.
PP=Past President              F=Founder                 EM=Early Member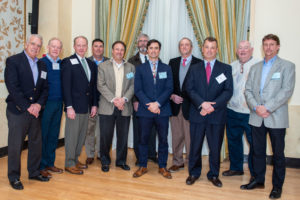 (Photo – left to right)Duncan Patterson, CCIM (EM), Pete Davisson, SIOR, CCIM (PP), Jeremy Abelson (PP), Jed Hatfield (EM), Donald Robitzer (PP), John Birmingham (PP), Robert Stenta (Current President), Leigh Johnstone (F & PP), Bert Root (PP), Edward Connor (F), and Gregory Ellis, CCIM (PP).
Not present: Jack Stoltz (F), Hunter Lott (F & PP), Charles Woods (F), John Osborn (PP), Carmen Facciolo (PP), Lex Petrillo (EM), Paul Hockersmith (PP), Alan Perry (PP), Kevin McGonegal (PP), Donna Murrary (PP), Douglas Snyder (PP), Thomas White (PP).
Here is the gallery for the February luncheon. Special thanks to Anthony Santoro, Diamond State Photography for capturing the event in photos:
The next meeting with be Wednesday, March 11, 2020 at the Dupont Country Club.
Click here to register:   http://www.circdelaware.org/meetings/nextMeeting.cfm