Commercial-Industrial Realty Council Celebrates the Holidays
Members of the Commercial-Industrial Realty Council (CIRC) gathered on Wednesday, December 11 at the Whist Club in Wilmington, Delaware for their Annual Holiday Luncheon. What a wonderful way to celebrate the accomplishments of 2019 in a beautiful place.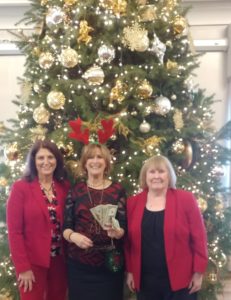 Attendees "Filled the Barrel" with canned and boxed dry goods, shelf-stable milk, tuna, peanut butter and holiday foods for the Food Bank of Delaware. Each participant received a raffle ticket for donated prizes.
Thanks to everyone who donated a prize:
Charlie Tomlinson, Today Media – 1/4 page ad in Delaware Business Times + more; Value $1,450)
Steve Burnett, IFS Insurance – Restaurant Gift Card
TJ Hanna, Harvey Hanna & Associates – Fairfax Liquors  Gift Basket
Jed Hatfield, Colonial Parking – Colonial Airport Parking.gift certificate
Patrick Gioffre, Gioffre Commercial – $50 Cold, Hard, Cash!
Todd Breck, Breckstone Architecture – Fine Wine Pairing (Chardonnay and Pinot Noir)
Herb Hirzel, City Window Cleaning – $50 Harry's Savoy Gift Card
Lorraine Sheldon, NAI Emory Hill – Fine Wines
Kim Connell, First State Elevator – Holiday Surprise Basket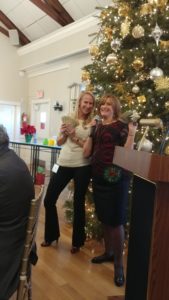 There was a 50-50 cash drawing with proceeds benefitting the Boys & Girls Clubs. Everyone was thrilled that it was won by our hard working leader Janet Pippert.
A special thanks to our event sponsors. We could not have our celebration without your support.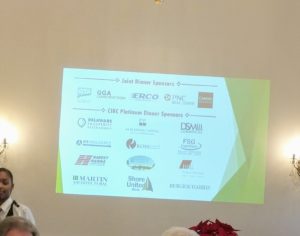 Once again, a number of new members were recognized. Thanks to our Membership Committee for their efforts.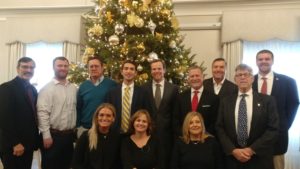 (Front Row – left to right) Julianna Schuster – Diversified; Jennifer Seymore – Door & Gate USA; and Tabitha Woods, Pettinaro Management.
(Back Row – left to right) Jim Manna, BrightFields Inc., Membership Chairman; Don Muller, Patterson-Woods Commercial Associates; Chris Sanna, Tri-State The Roofers; Griffin Conaty – DSM Commercial; Mclane Hendricks, Patterson-Woods Commercial Associates; Bob Cole, Jan Pro Cleaning; Richard Piendak, Advanced Pavement Group; George Trapnell – Malvern Bank; and Brent du Pont – Patterson-Woods Commercial Associates
Here is the photo gallery for the luncheon:
We wish everyone a Merry Christmas and Happy New Year.
Our next meeting is January 8, 2020. Here is a link to register:
http://www.circdelaware.org/meetings/nextMeeting.cfm